(read a letter from the doctor)


If you have any questions or concerns I would be happy to discuss them with you.I can be reached by email at [email protected]. I personally answer all of my emails. Or you can contact me by phone at the office at (919) 929-4244.

Education and Work History

I attended the Pennsylvania State University, where I received a degree in Kinesiology (the study of human movement).Following my graduation from Penn State I went to Palmer College of Chiropractic. Palmer was first chiropractic school and was founded by D.D. Palmer, the man that invented chiropractic. My first chiropractic job was as an associate at a family practice in York, PA. I then moved onto running a satellite office while working for a large sports centered chiropractic group in the northern VA area. Prior to moving to North Carolina, I was the chiropractor at Andrews, Air Force Base, outside of Washington, DC. I have worked with professional athletes, members of the military, along with men, women and children of all ages.




Life Outside the Office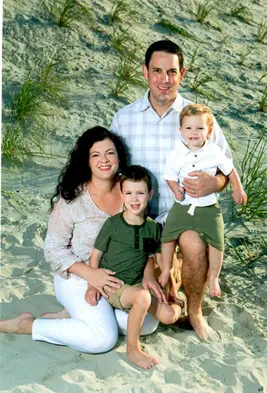 When I am not at the office my favorite thing to do is spend time with my family, including my sons, Joseph and James, and my wife, Jacqi. In my spare time I enjoy running, weight lifting and exercise in general. Exercise is an outlet for me and acts as a great stress reliever. This is part of the reason that I like to work with athletes because on some level I understand their need to get back into the game. I also like to golf (or try to golf), fish, and wood working projects.
Adjusting Technique and Philosophy
As the patient you play a role in determining how the actual adjustment will go. Some patients have had previous pleasant experiences with a chiropractor in which case I do what I can to make the adjustments as familiar as possible to the patient. Sometimes the opposite happens and a patient reports that they have had a previously negative experience and they do not want to be adjusted in that same manner. I describe myself as a hands on chiropractor. Meaning that I prefer to adjust with my hands as opposed to machines or instruments. I feel better using my hands and experience to let me know where and how to adjust as opposed to a machine. I do use light force techniques when required either by the circumstances or when the patient wishes. I use the activator adjusting instrument daily in my practice. I am also certified in the Webster Technique, which is designed to help remove interference and subluxation related to pregnancy.